The Basics
JMS Hockey 101 is two six-week programs involving Skills and then Games, all on Sunday nights at Parade Ice Garden in Minneapolis. Just $109 (early bird) per program, participants may choose Skills and/or Games (preference for Games registration given to participants of the Skills program).
Pricing
Registration is now open for the Skills portion of JMS Hockey 101! Early bird price of $109 good through October 31 (price increases to $125 afterwards).
Coaching
Coach Rob Little
, a longtime adult hockey instructor, will lead six one-hour on-ice sessions and two off-ice "chalk talks."
Rob will show you proper skating techniques, including balance, body movement and edge control. He will also teach puckwork fundamentals, including passing and carrying, and the most common shots: wrist shot and snap shot.
Want to meet Rob before Hockey 101 begins? Just sign up for one of the
Thursday night clinic sessions at Parade
! Rob will also be the "instructional referee" for the tutorial Games portion (which begin in January; early bird registration will open in November).
Equipment
You'll need some equipment to get started: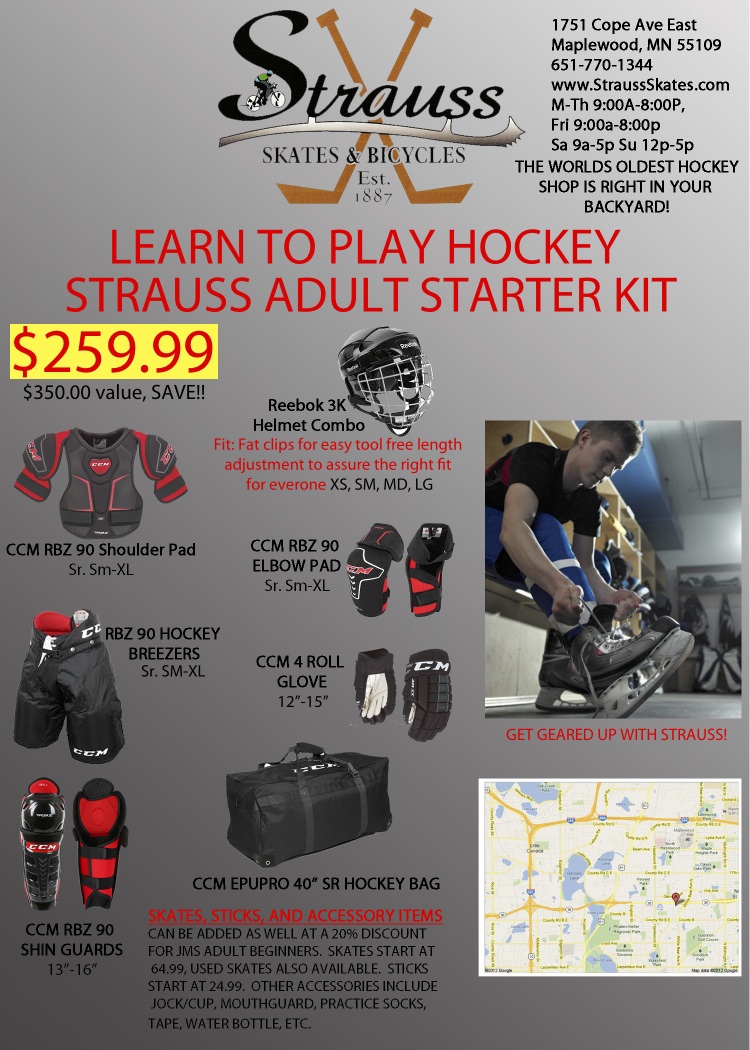 Helmet
Shoulder pads
Breezers
Gloves
Elbow pads
Shin guards
Hockey bag
Stick
Skates
That list sounds intimidating, but we've made it easier to get started by partnering with
Strauss Skates & Bicycles
to offer an adult hockey starter kit. Click the flyer on the right for details.
Directions to Strauss
Goalies
Goalies: we will need occasional netminders for certain Skills sessions--send an e-mail to
support@jmshockey.com
if you interested in filling in!
Who Can Participate?
JMS Hockey 101 is co-rec and for adults over age 18. Participants will need to have their own hockey gear including: helmet, shoulder pads, elbow pads, gloves, breezers, shin pads, skates and stick. White and black JMS jerseys will be provided!
Come learn hockey with other brand-new beginners!
Skills Schedule
| | | | | |
| --- | --- | --- | --- | --- |
| Rink | Clinic | Date | Start time | End time |
| Parade | Hockey 101 On Ice | Sunday November 9th | 8:30PM | 9:30PM |
| Parade | Hockey 101 On Ice | Sunday November 16th | 8:30PM | 9:30PM |
| Parade | Hockey 101 On Ice | Sunday November 23rd | 7:15PM | 8:15PM |
| Parade | Hockey 101 Chalk Talk | Sunday November 23rd | 8:30PM | 9:30PM |
| Parade | Hockey 101 On Ice | Sunday December 7th | 8:30PM | 9:30PM |
| Parade | Hockey 101 Chalk Talk | Sunday December 14th | 7:00PM | 8:00PM |
| Parade | Hockey 101 On Ice | Sunday December 14th | 8:30PM | 9:30PM |
| Parade | Hockey 101 On Ice | Sunday December 21st | 8:30PM | 9:30PM |